Napoleon Dynamite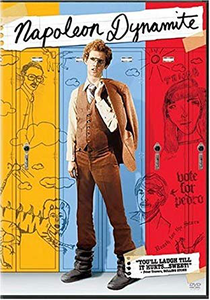 NAPOLEON DYNAMITE (PG)
Paramount/Fox Searchlight/MTV (Jeremy Coon, Chris Wyatt & Sean Covel)
W: Jared Hess & Jerusha Hess
Jon Heder (Napoleon Dynamite), Jon Gries (Rico Dynamite), Aaron Ruell (Kip Dynamite), Efren Ramirez (Pedro Sanchez), Tina Majorino (Deb Bradshaw), Haylie Duff (Summer Wheatley)
Anyone who went to high school would have known a character like Napoleon Dynamite, an oddball nerd who wears his idiosyncrasies on his sleeve like a badge of honour.
This teen comedy also trades itself on its own kookiness rather than a traditional narrative or storyline. The limited story sees the title character attempt to get his misfit Mexican chum elected as school president in the upcoming campus election, as well as vying to get a date for the prom and trying to escape embarrassment from the hand of his infuriatingly obnoxious uncle or equally nerdy brother.
It's a film which will certainly divide audiences due to its style of humour, but the intended demographic may well think it's the bomb.
6/10