Naked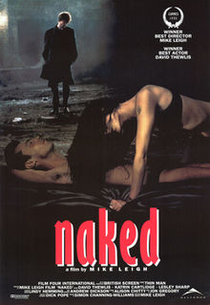 NAKED (18)
First Independent/Thin Man/Film Four (Simon Channing-Williams)
W: Mike Leigh
David Thewlis (Johnny), Lesley Sharp (Louise Clancy), Katrin Cartlidge (Sophie), Greg Cruttwell (Jeremy G. Smart), Claire Skinner (Sandra), Peter Wright (Brian), Ewen Bremner (Archie), Susan Vidler (Maggie)
Mike Leigh's downbeat drama lays bare the subject of misogyny and sexual obsession. The story simultaneously follows the lives of two men, the first of which is the loquaciously upfront Johnny, who flees South from Manchester to escape a beating following his rape of a woman. Upon arrival in London, he visits an ex-girlfriend and plans to squat, before his life seems to spiral out of control. 
The second man is a sexually-obsessed yuppie who lies, threatens and blackmails his way into the pants of his conquests.
The two lives clash at the denouement, but there is no resolution to the issues here, as writer-director Mike Leigh seems to make a statement that some people are simply beyond redemption.
A depressing but riveting watch, made all the more interesting by the conviction of David Thewlis' performance. Where was his Oscar nomination?
8/10