The Muppets (film series)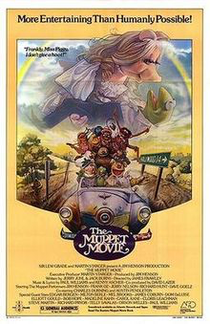 THE MUPPET MOVIE (U)
W: Jerry Juhl & Jack Burns
Ed: Christopher Greenbury
Mus: Paul Williams & Kenny Ascher
Jim Henson (Kermit the Frog / others), Frank Oz (Miss Piggie / others), Charles Durning (Doc Hopper), Austin Pendleton (Max), Scott Walker (Frog Killer), Mel Brooks (Prof. Krassman)
The first Muppet feature film brings the characters from the TV show onto a bigger canvas to showcase their act, with a self-referential storyline which sees Kermit The Frog, Miss Piggy and the rest travelling across America to Hollywood so they can appear in their own film.
The material is quite thin for the musical variety act's first cinema outing, but it's clean, enjoyable family fun, with a memorable song ("The Rainbow Connection") performed by Kermit himself. The 2011 film, The Muppets (qv), was practically a remake of this.
6/10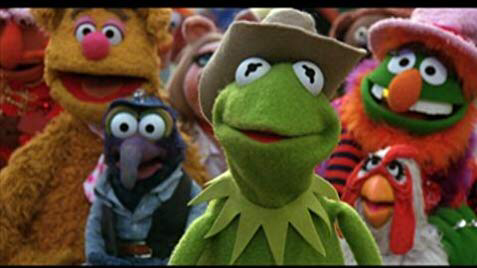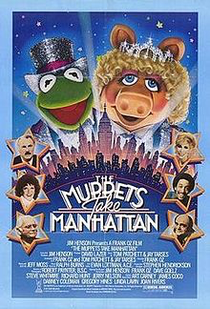 THE MUPPETS TAKE MANHATTAN (U)
W: Frank Oz, Tom Patchett & Jay Tarses
Kermit The Frog (himself), Miss Piggy (herself), Fozzie Bear (himself), The Great Gonzo (himself), Dabney Coleman (Murray Plotsky), Art Carney (Bernard Crawford), James Coco (Mr. Skeffington), Joan Rivers (Eileen)
The Muppets' third big screen outing (following The Muppet Movie & The Great Muppet Caper) is amongst their best work, with the puppet variety act performing on New York's Broadway. It's basically a feature-length episode of their TV show, but tons of fun for fans of Jim Henson's creations. Guest stars aplenty, but it's the muppets who steal the show. 
6/10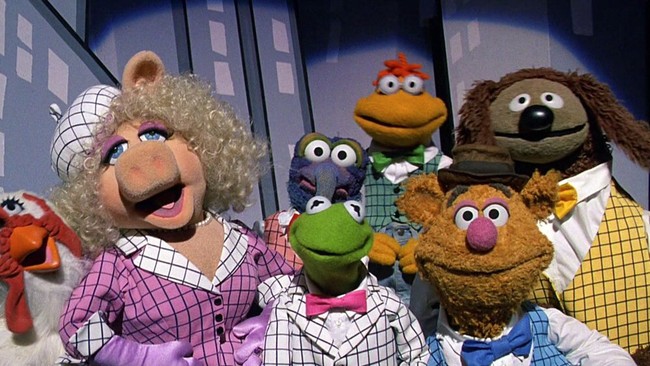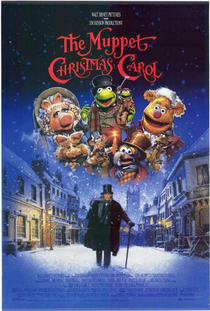 THE MUPPET CHRISTMAS CAROL (U)
Disney (Brian Henson & Martin G. Baker)
W: Jerry Juhl [based on the story "A Christmas Carol" by Charles Dickens]
Mus: Miles Goodman; Paul Williams
Michael Caine (Ebeneezer Scrooge), Steven MacKintosh (Fred), Meredith Braun (Belle), Robin Weaver (Clara), Kermit The Frog (Bob Cratchit), Miss Piggy (Emily Cratchit), The Great Gonzo (Charles Dickens), Fozzie Bear (Fozziwig)
A cheerful and fun adaptation of Charles Dickens' perennial Yuletide classic aimed not just at children, but general fans of The Muppets.
Michael Caine (in human form) steps into the shoes of Ebeneezer Scrooge, a Christmas-hating miser who changes his ways after being visited by a group of ghosts.
The usual Muppets (Kermit, Miss Piggy, etc.) don't appear quite as much as you'd like them to, but it's still enjoyable enough for the older fans of the puppet comedy troupe.
6/10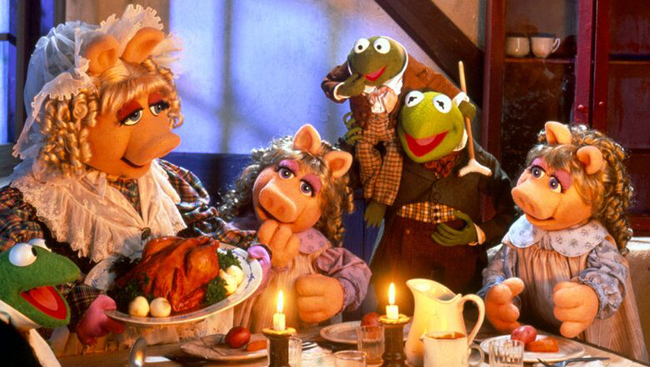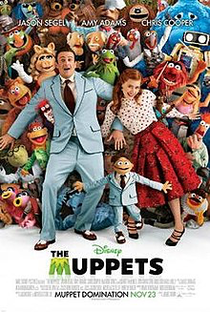 THE MUPPETS (U)
Disney (David Hoberman & Todd Lieberman)
W: Jason Segel & Nicholas Stoller
Ed: James Thomas & Alan Baumgarten
Jason Segel (Gary), Amy Adams (Mary), Chris Cooper (Tex Richman), Rashida Jones (Veronica), Kermit The Frog (himself), Miss Piggy (herself), Walter (himself)
Practically a retread of their first outing. Kermit, Miss Piggy and co have all gone their separate ways and the Muppet studio is now owned by a oil tycoon who wants the buildings smashed to the ground. Cue Jason Segal, Amy Adams and a load of cameos to put on a Muppet-a-thon and save the day, complete with a load of great new songs from Flight Of The Conchordes' Brett McKenzie.
Yes, it's a kids film... But I think it's brilliant that muppets are back again for a new generation. Some things never grow old.
6/10