The Mummy (trilogy)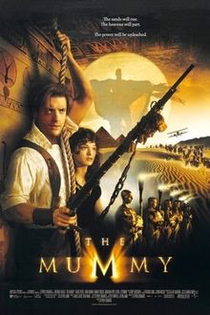 THE MUMMY (12)
Universal/Alphaville (James Jacks & Sean Daniel)
Brendan Fraser (Rick O'Connell), Rachel Weisz (Evie Carnahan), John Hannah (Jonathan Carnahan), Arnold Vosloo (Imhotep), Kevin J. O'Connor (Beni Gabor), Jonathan Hyde (Dr. Allen Chamberlain), Oded Fehr (Ardeth Bay)
Not so much a remake of the 1932 classic horror of the same name, but more an Indiana Jones-style adventure yarn starring Brendan Fraser as an intrepid explorer who stumbles upon the resting place of a mummified Egyptian priest, buried alive for a thousand years and revived through a spell book.
The film is played mostly for laughs, with the occasional shock and more than enough action set pieces to keep it ticking over nicely.
Brendan Fraser makes a charismatic action star, whilst Rachel Weisz makes a charmingly sweet damsel in distress.
The special effects are generally good, though some of the CGI seems a little too cartoon-like. Good fun for older kids and adults alike.
6/10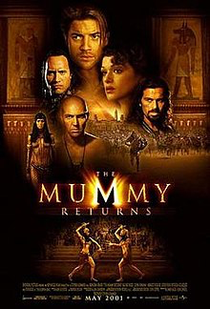 THE MUMMY RETURNS (12)
Universal/Alphaville (James Jacks & Sean Daniel)
Ed: Bob Ducsay & Kelly Matsumoto
Brandon Fraser (Rick O'Connell), Rachel Weisz (Evie Carnahan), John Hannah (Jonathan Carnahan), Arnold Vosloo (Imhotep), Oded Fehr (Ardeth Bay), Patricia Velasquez (Anck-Su-Namun), Freddie Boath (Alex O'Connell), Dwayne 'The Rock' Johnson (The Scorpion King)
A sequel which exists only to steal your money through cinema.  If I'd watched this on the big screen I'd have demanded my money back.  The storyline is practically the same as the first movie, except there's an obnoxious little brat as Brendan Fraser's & Rachel Weisz's son who gives Jar Jar Binks a run for his money as the most annoying cinematic sidekick of all time.  It's even more obvious that this movie was rushed into theatres to catch the school holidays by the lazy special effects, particularly at the end.  Not a patch on the 1999 film.
3/10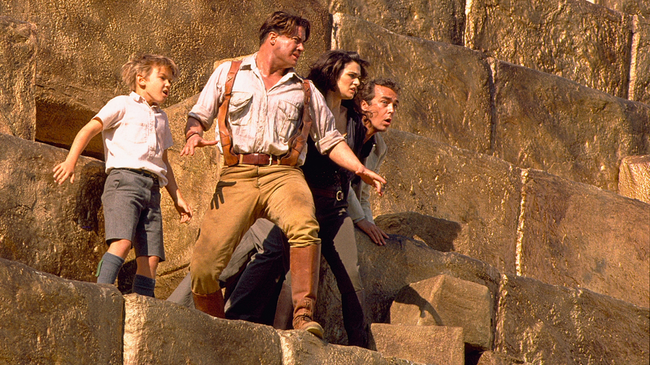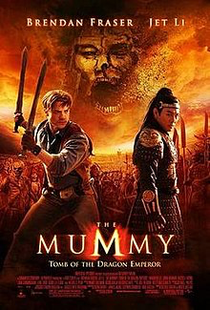 THE MUMMY: TOMB OF THE DRAGON EMPEROR (12)
Universal/Relativity Media (Sean Daniel, James Jacks, Bob Ducsay & Stephen Sommers)
W: Alfred Gough & Miles Millar [based on characters created by Stephen Sommers, Lloyd Fonvielle & Kevin Jarre]
Ed: Joel Negron & Kelly Matsumoto
Brendan Fraser (Rick O'Connell), Maria Bello (Evelyn O'Connell), Jet Li (The Dragon Emperor), John Hannah (Jonathan Carnahan), Russell Wong (Ming Guo), Liam Cunningham (Maguire), Luke Ford (Alex O'Connell), Isabella Leong (Lin), Michelle Yeoh (Zi Yuan)
Indiana Jones-lite, following exactly the same formula from the first two movies, except this is set in China rather than North Africa and replaces Rachel Weisz with a rather poor Maria Bello.
It also focuses much more on the son's character, presumably to take over from Brendan Fraser after he leaves the franchise.
Like Indiana Jones & The Kingdom of the Crystal Skull, it simply doesn't measure up to the original. The CGI effects range from decent to absolutely atrocious and you get a feeling of deja vu when it comes to the action set pieces.
Still, I preferred this on an entertainment level to the quite awful The Mummy Returns (qv).
4/10