The Money Pit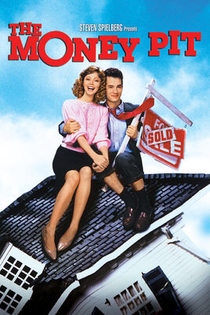 THE MONEY PIT (PG)
Universal (Frank Marshall, Kathleen Kennedy & Art Levinson)
W: David Giler [based on the screenplay "Mr. Blandings Builds His Dream House" by Norman Panama & Melvin Frank]
PD: Patrizia Von Brandenstein
Tom Hanks (Walter Fielding), Shelley Long (Anna Crowley), Alexander Godunov (Max Beissart), Maureen Stapleton (Estelle), Joe Mantegna (Art Shirk), Philip Bosco (Curly), Josh Mostel (Jack Schnittman)
Tom Hanks & Shelley Long buy into the great American dream when they buy their first house, a small mansion at a bargain price.
Things fall apart however, including their relationship, soon after moving in and they bust the bank putting the property back into shape.
This remake of 1948 screwball comedy, Mr. Blanding's Builds His Dream House, gives Tom Hanks a great platform to showcase his comedy talents, but Shelley Long isn't really given too much to do.
Nevertheless, The Money Pit is one of the better and most enjoyable Hollywood remakes from the 1980's.
7/10