The Maze Runner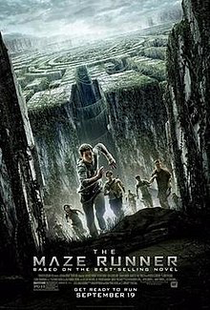 THE MAZE RUNNER (12)
D: Wes Ball
20th Century Fox/TSG/Temple Hill (Ellen Goldsmith-Vein, Wyck Godfrey, Marty Bowen & Lee Stollman)
US 2014
113 mins
Science Fiction
W: Noah Oppenheimer, Grant Pierce Myers & T.S. Nowlin [based on the novel by James Dashner]
DP: Enrique Chediak
Ed: Dan Zimmerman
Mus: John Paesano
Dylan O'Brien (Thomas), Kaya Scodelario (Teresa), Aml Ameen (Alby), Thomas Brodie-Sangster (Newt), Will Poulter (Gally), Ki Hong Lee (Minho), Patricia Clarkson (Ava Paige)
Based on a series of young adult novels, The Maze Runner is set in a dystopian future where a group of teenage boys live in a community of their own making which they call The Glade, the only escape from which is through an ever-changing labyrinth which is patrolled by dangerous cyborgs.
Thomas is a newcomer to this society, waking up in an elevator with no memory of who he is and how he got to be sent to the prison community. His presence is met with conflict by one of the teenage members, but the group of boys all band together to plot an escape when a teenage girl enters The Glade for the first time.
The Maze Runner will be as entertaining for teenage boys as Twilight is for teenage girls, but if you're outside the target demographic, you're unlikely to find it amazing.
Still, it's adequately produced, with some good performances, visual effects and some thrilling action scenes, but it's all pretty much Lord Of The Flies meets The Hunger Games for the under 16's. Two sequels followed.
6/10