The Master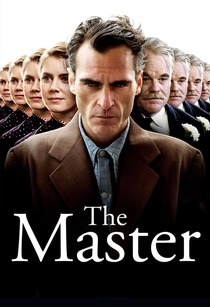 THE MASTER (15)
TWC/Annapurna (Paul Thomas Anderson, Daniel Lupi, Megan Ellison & JoAnne Sellar) 
Ed: Leslie Jones & Peter McNulty
Joaquin Phoenix (Freddie Quell), Philip Seymour Hoffman (Lancaster Dodd), Amy Adams (Peggy Dodd), Laura Dern (Helen Sullivan), Madisen Beaty (Doris Solstad), Ambyr Childers (Elizabeth)
Joaquin Phoenix plays a naval officer returning to US soil following a tour of duty and suffering from post traumatic stress disorder.
He is seduced by Amy Adams into joining a strange cult, headed by her flamboyant father, Lancaster Dodd (Philip Seymour Hoffman), but the rebellious officer is a hard man to manage.
Aside from a trio of excellent performances, the film has little to write home about, dragging on occasion and far less engaging or immersive than the director's previous efforts (Boogie Nights, There Will Be Blood).
6/10