The Mask/Son of the Mask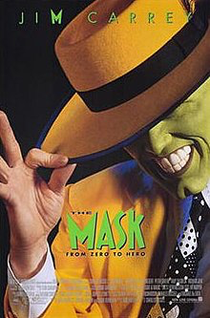 THE MASK (PG)
New Line/Dark Horse (Bob Engleman)
W: Mike Werb [based on characters appearing in Dark Horse comics]
Jim Carrey (Stanley Ipkiss / The Mask), Cameron Diaz (Tina Carlyle), Peter Greene (Dorian Tyrell), Peter Riegert (Lt. Mitch Kellaway), Amy Yasbeck (Peggy Brandt)       
1994 saw the career of Jim Carrey go from zero to hero; the rubber-faced comedian scoring massive box office hits with Ace Ventura: Pet Detective (qv) before The Mask became a huge summer smash. 
He plays a goofy, wimpish bank clerk who discovers an ancient mask which has the power to turn him into a mischievious superhero. The film perfectly captures a comic-book look and utilises some excellent visual effects which combine live action with brilliant cartoon animation. Rumbunctious fun for kids and plenty for adults to enjoy too.
The film also offered a debut performance from Cameron Diaz, who literally bursts into the spotlight.
A sequel followed in 2003 (Son Of The Mask), but is best avoided.
7/10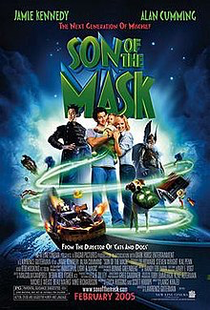 SON OF THE MASK (PG)
New Line/Dark Horse (Erica Huggins & Scott Kroopf)
W: Lance Khazei [based on characters from Dark Horse comics]
Ed: Malcolm Campbell, John Coniglio & Debra Neil-Fisher
Jamie Kennedy (Tim Avery), Alan Cumming (Loki), Traylor Howard (Tonya Avery), Steven Wright (Daniel Moss), Kal Penn (Jorge), Bob Hoskins (Odin)
A sequel nobody wanted, needed, asked for and 11 years too late. 
The first movie made a star out of Jim Carrey and had some impressive cartoon visual effects reminiscent of Who Framed Roger Rabbit in the late 80's.
This sequel stars Jamie Kennedy, the dweeb from the Scream movies, playing our protagonist, a cartoon artist with an infant son.
The seed of Loki's mask somehow passed on to a new generation during conception and Loki needs his mojo back and kidnaps the "gifted" child. There's a lot of cartoonish shenanigans just like the first movie, except it isn't funny here it's just cartoonish nonsense.
Alan Cumming delivers an exceptionally bad performance as the villain, Loki. The story is pretty much incomprehensible and even the visual effects are below standard. The overall result is just creepy.
A movie which must be avoided and a sequel that shouldn't have been made.
1/10