The Mask of Zorro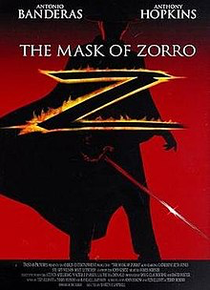 THE MASK OF ZORRO (PG)
Columbia Tristar/Amblin (Doug Claybourne & David Foster)
W: John Eskow, Ted Elliott & Terry Rossio
Antonio Banderas (Alejandro Murrieta / Zorro), Anthony Hopkins (Don Diego de la Vega), Catherine Zeta-Jones (Elena Montero), Stuart Wilson (Don Rafael Montero), Matt Letscher (Capt. Harrison Love)
Western-style swashbuckler adventure with the mask of the Mexican swordsman passing from Anthony Hopkins to Antonio Banderas as both men fight for revenge, Hopkins vying to kill the man who kidnapped his daughter and Banderas sworn to avenge his brother's death.
Catherine Zeta-Jones makes her Hollywood big screen debut as the woman with whom both men have an underlying interest.
A hugely entertaining update of the old-fashioned style Errol Flynn Hollywood swashbucklers.
6/10