The Maltese Falcon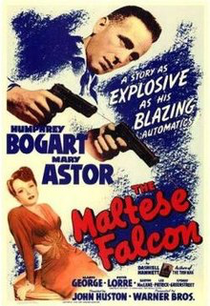 THE MALTESE FALCON (PG)
D: John Huston
Warner Bros. (Henry Blanke)
W: John Huston [based on the novel by Dashiell Hammett]
DP: Arthur Edeson
Humphrey Bogart (Sam Spade), Mary Astor (Brigid O'Shaughnessy), Gladys George (Iva Archer), Peter Lorre (Joel Cairo), Lee Patrick (Effie Perine), Sydney Greenstreet (Kasper Gutman), Barton MacLane (Det. Lt. Dundy), Ward Bond (Det. Tom Polhaus), Elisha Cook, Jr. (Wilmer Cook)
This 1941 version of Dashiell Hammett's famous novel is actually the third to hit cinema screens, and easily the most iconic due to the perfection of the casting.
Humphrey Bogart is easily the ideal choice as cynical private eye Sam Spade, whose latest case involves both a missing person and a missing artefact, a precious statue of a bird whose whereabouts have been a mystery since the Middle Ages.
It's a tricky investigation which sees Spade's partner murdered in the first act and the sleuth becoming a suspect in the eyes of two zealous police detectives.
John Huston's direction and the black & white photography perfectly captures the mood of the period, as well as encapsulating the mystery of Hammett's original novel, where nobody can be trusted, including the main protagonist.
A perfect example of a classic detective movie. Certain elements have become dated, but it's still a remarkable piece of 1940's cinema.
9/10