My Week With Marilyn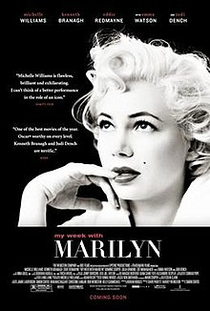 MY WEEK WITH MARILYN (12)
TWC/BBC/Lipsync/Trademark (David Parfitt & Harvey Weinstein)
W: Adrian Hodges [based on the book "The Prince, The Showgirl and Me, and My Week With Marilyn" by Colin Clark]
Mus: Conrad Pope & Alexandre Desplat
Michelle Williams (Marilyn Monroe), Eddie Redmayne (Colin Clark), Kenneth Branagh (Laurence Olivier), Julia Ormond (Vivien Leigh), Judi Dench (Sybil Thorndike), Emma Watson (Lucy), Dougray Scott (Arthur Miller)
Michelle Williams portrayal of Marilyn Monroe in this semi-biopic is so convincing, you may have to keep telling yourself it isn't actually the real movie legend.
The story follows a young assistant director (Eddie Redmayne) and his brief fling with Monroe on and off the set of Laurence Olivier's 1956 movie The Prince & The Showgirl.  It's not certain if all of the story is true, but it is very well publicised that Marilyn Monroe was incredibly difficult to work with, frequently turning up on the film set late, drunk, or not at all.
Kenneth Branagh is excellent as Olivier, but this is definitely Williams moment to shine. She's come a very long way since Dawson's Creek and is very much one of the up and coming young actresses of the early 21st century.
The rest of the casting is good, with modern day likenesses cast as movie legends of yesteryear. Keep your eyes peeled for a Norman Wisdom 'cameo'.
It doesn't delve deep into the life of a troubled woman, but offers an entertaining tidbit of one of the most iconic actresses of the 20th century.
7/10