My Life as a Courgette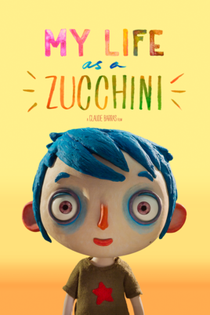 MY LIFE AS A COURGETTE (aka MY LIFE AS A ZUCCHINI) (PG)
D: Claude Barras
Gebeka/Praesens/Blue Spirit (Armelle Glorennec, Eric Jacquot & Marc Bonny)
France/Switzerland 2016
65 mins
Animated
W: Celine Sciamma, Claude Barras, Germano Zullo & Morgan Navarro [based on the book "Autobiographie d'une Courgette" by Gilles Paris]
Mus: Sophie Hunger
Gaspard Schlatter / Erick Abbate (Courgette), Sixtine Murat / Ness Krell (Camille), Paulin Jaccound / Romy Beckman (Simon), Michel Vuillermoz / Nick Offerman (Raymond), Paul Ribera / Barry Mitchell (Ahmed)
Despite being an animated film which generally appeal more to younger audiences, My Life As A Courgette tackles many mature themes which might not be suitable for anybody below teenage years.
Based on a novel by Gilles Paris, this French film tells the story of Courgette, a nine-year-old boy who becomes the newest resident of an orphanage following the accidental death of his abusive, alcoholic mother. 
At his new home, he is initially bullied by another boy, before becoming friends and developing a childhood crush on a troubled girl who also moves in.
At a mere 65 minutes, the film provides perfect entertainment for its duration, with stop-motion animation in a style of its very own. 
A deserved nominee for Best Animated Film at the 2016 Oscars.
7/10