My Girl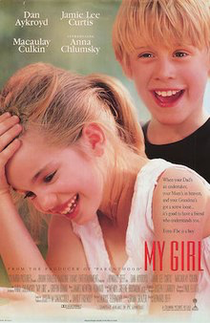 MY GIRL (PG)
Columbia/Imagine (Brian Grazer)
Ed: Wendy Greene Bricmont
Dan Aykroyd (Harry Sultenfuss), Jamie Lee Curtis (Shelly DeVoto), Anna Chlumsky (Vada Sultenfuss), Macauley Culkin (Thomas), Richard Masur (Phil Sultenfuss), Griffin Dunne (Mr. Bixler)
Syrupy, maudlin and overly sentimental coming-of-age story with a bit of a young romance thrown in (perhaps to cash in on Macauley Culkin's fame following the success of Home Alone).
Anna Chlumsky delivers a good juvenile performance as an undertaker's daughter, struggling to cope with growing up without her mother in a small town during the 1960's. The film revitalised the song "My Girl" by The Temptations, getting back into the music charts after nearly three decades. Little girls will appreciate this movie a lot more than little boys.
A cash-grab sequel was released three years later.
6/10