My Cousin Vinny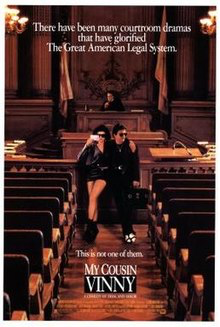 MY COUSIN VINNY (15)
20th Century Fox (Dale Launer & Paul Schiff)
W: Dale Launer
Joe Pesci (Vincent LaGuardia Gambino), Ralph Macchio (Bill Gambini), Mitchell Whitfield (Stan Rothenstein), Marisa Tomei (Mona Lisa Vito), Fred Gwynne (Judge Chamberlain Haller), Lane Smith (Jim Trotter III), Austin Pendleton (John Gibbons), Bruce McGill (Sheriff Farley)
My Cousin Vinny gives Joe Pesci one of his best comedy performances as a hugely inexperienced Italian-American lawyer from Brooklyn, way out of his comfort zone in small town Alabama, where he has to represent his cousin on a false murder charge.
The script is excellently written, giving Pesci more than a handful of one-liners, whilst the supporting cast is also fantastic. Marisa Tomei's Oscar win for Supporting Actress is oft-maligned, but she does bring much sassiness to a love interest who, could easily have blended into the background had it been portrayed by anyone else.
It also has to be noted that, despite the film being a comedy, it nails courtroom procedure more accurately than the vast majority of dramas.
8/10