My Beautiful Laundrette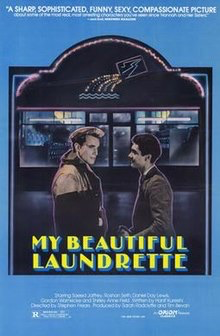 MY BEAUTIFUL LAUNDRETTE (15)
Working Title/SAF/Channel 4 (Tim Bevan & Sarah Radclyffe)
W: Hanif Kureishi
Gordon Warnecke (Omar), Saeed Jaffrey (Nasser), Roshan Seth (Papa), Daniel Day-Lewis (Johnny), Shirley Anne Field (Rachel), Rita Wolf (Tania)
Originally made for and broadcast on TV, this multicultural drama received a cinema release following critical praise on the festival circuit.
This British drama, with a few moments of comedy, takes place in South London during the Thatcher-era, where a young Asian with entrepreneurial ambitions starts managing his uncle's launderette and has a love affair with a white racist.
The story handles a lot of issues incredibly well, tasteful with its balance of homosexuality, racism and a London area during a period of transition.
7/10