Murder on the Orient Express (1974/2017)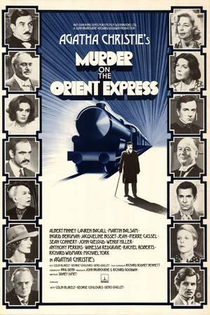 MURDER ON THE ORIENT EXPRESS (PG)
EMI/GW (John Brabourne & Richard Goodwin)
W: Paul Dehn [based on the novel by Agatha Christie]
Mus: Richard Rodney Bennett
Albert Finney (Hercule Poirot), Ingrid Bergman (Greta Ohlsson), Lauren Bacall (Mrs. Hubbard), Wendy Hiller (Princess Dragomiroff), Sean Connery (Col. Arthbutnot), Jacqueline Bisset (Countess Andrenyi), John Gielgud (Beddoes)
Agatha Christie's better known creation, the sleuth Hercule Poirot investigates a murder on a snowbound train and discovers that everybody is a suspect.
It's very much an actor's piece, with some fine performances from many members of the all-star cast, but Albert Finney isn't quite the right fit for the famous detective (though he does try his very best in the role). It's probably the definitive movie version of the classic novel, with a fine ensemble of big name actors from the mid-70's, but it's a mystery which is better suited to print (or perhaps even the stage).
6/10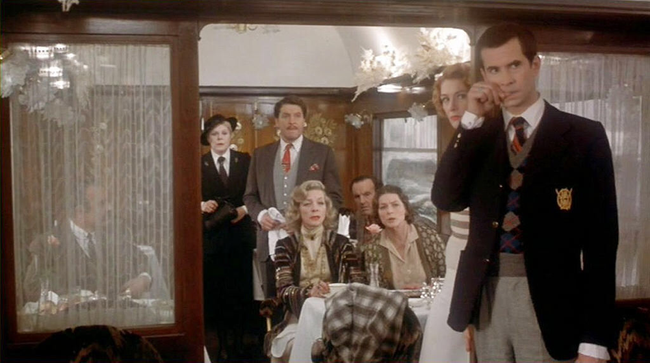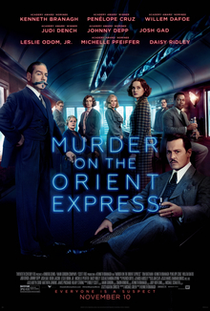 MURDER ON THE ORIENT EXPRESS (12)
D: Kenneth Branagh
20th Century Fox/Scott Free (Ridley Scott, Mark Gordon, Simon Kinberg, Kenneth Branagh, Judy Hofflund & Michael Schaefer)
UK/US 2017
114 mins
Mystery/Thriller
W: Michael Green [based on the novel by Agatha Christie]
DP: Haris Zambarloukos
Ed: Mick Audsley
Mus: Patrick Doyle
PD: Jim Clay
Cos: Alexandra Byrne
Kenneth Branagh (Hercule Poirot), Penelope Cruz (Pilar Estravados), Willem Dafoe (Gerhard Hartman), Judi Dench (Princess Dragomiroff), Johnny Depp (Edward Ratchett), Josh Gad (Hector MacQueen), Derek Jacobi (Edward Henry Masterman), Leslie Odom, Jr. (Dr. Arbuthnot), Michelle Pfeiffer (Caroline Hubbard), Daisy Ridley (Mary Debenham)
A new adaptation of Agatha Christie's classic mystery stars a modern ensemble cast for the new generation of moviegoers.
The mystery, intrigue and suspense won't really be there for those who have either read the novel or seen any previous version, since this remake doesn't allow itself any creative licence with the original prose.
Kenneth Branagh directs himself in the lead as super sleuth Hercule Poirot, who finds himself above the luxury train amongst a group of strangers who later become suspects when gangster turned art dealer, Edward Ratchett, is murdered in his sleep, stabbed a dozen times with a number of clues which pinpoint who was responsible for the crime.
With the train unable to continue its journey due to a snowstorm, Poirot investigates the murder and discovers that everyone is suspect. 
The majority of the cast are excellent, with Michelle Pfeiffer possibly the main standout in what could easily be her comeback role. 
Kenneth Branagh isn't quite as convincing as the Belgian detective, but maybe this is due to David Suchet owning the role in a long-running British TV series.
The period design and costumes make for a convincing 1940's setting, but the CGI visual effects could have been done a lot better.
For those unfamiliar with the story, this will be a good version to watch, but for many the 1974 version with Albert Finney will be the definitive screen adaptation.
6/10