Mr Holland's Opus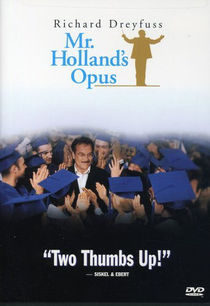 MR. HOLLAND'S OPUS (PG)
Interscope (Ted Field, Michael Nolin & Robert W. Cort)
Richard Dreyfuss (Glenn Holland), Glenne Headly (Iris Holland), Jay Thomas (Bill Meister), Olympia Dukakis (Principal Jacobs), William H. Macy (Vice Principal Wolters), Alicia Witt (Gertrude Lang), Jean Louisa Kelly (Rowena Morgan)
Mr. Holland's Opus could easily be described as Goodbye Mr. Chips with symphonies and orchestras.
Richard Dreyfuss plays the title character, an aspiring composer who takes a temporary job as a high school music teacher and spending 30 years of his life in the profession when he realises that his true vocation is to make others feel passion in music, which causes a rift between his own child, suffering from a hearing impairment.
It's an easy going film which suffers a little for its length, but the excellent performance from Dreyfuss makes the running time a little easier to endure.
6/10