The Motorcycle Diaries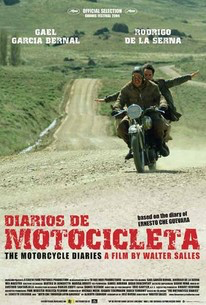 THE MOTORCYCLE DIARIES (DIARIOS DI MOTOCICLETA) (15)
Focus Features/Film4 (Michael Nozik, Edgard Tenenbaum & Karen Tenkhoff)
Argentina/Chile/France/UK/US 2004
W: José Rivera [based on the book by Ernesto 'Che' Guevara]
Gael Garcia Bernal (Ernesto Guevara), Rodrigo de la Serna(Alberto Grenado), Mia Maestro (Chichina), Gustavo Bueno (Dr. Hugo Pesce), Jorge Chiarella (Dr. Bresciani)
A biopic of Ernesto 'Che' Guevara before his revolutionist days, based on his own memoirs.
Gael Garcia Bernal delivers a great performance as the famous figure in his younger years, his destiny becoming shaped by the political upheaval in South America as he travels around it with his friend.
A good film, but highly unlikely to be the subject of repeated viewings.
7/10