Mortal Kombat (1 & 2)
MORTAL KOMBAT (15)
New Line/Threshold (Lawrence Kasanoff)
W: Kevin Droney [based on characters from the video game]
Christopher Lambert (Raiden), Robin Shou (Liu Kang), Cary-Hiroyuki Tagawa (Shang Tsung), Linden Ashby (Johnny Cage), Bridgette Wilson (Sonya Blade), Talisa Soto (Princess Kitana), Chris Casamassa (Scorpion)
For those not in the know, Mortal Kombat was a highly successful and popular video arcade game during the 1990's which became a staple on the consoles of teenage boys worldwide.
The film, like most video game-movie transitions, will not appeal to anyone who hasn't played the game. It's brimful with references and doesn't have much story aside from a plot which could be written on the back of a postage stamp; a group of characters are assembled to participate in a winner-takes-all fighting tournament.
Even fans of the game will be disappointed with this in all fairness. The lack of a decent story doesn't help, but coupled with the fact that the fight scenes are poorly choreographed and the visual effects are terrible, there isn't a lot to cheer about. 
A preference over watching this would be to get the old Super Nintendo out of the attic and play away for a couple of hours trying to remember the control combinations to unleash the special moves.
4/10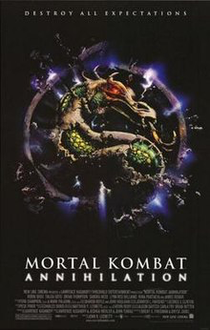 MORTAL KOMBAT II: ANNIHILATION (15)
New Line/Threshold (Lawrence Kasanoff)
W: Brent V. Friedman & Bryce Zabel [based on the video game]
Robin Shou (Liu Kang), Talisa Soto (Kitana), James Remar (Raiden), Sandra Hess (Sonya Blade), Lynn Red Williams (Jax), Brian Thompson (Shao Kahn)
A sequel which is no better or worse than the original film (which wasn't that great itself) in terms of plot, but with a noticeably smaller budget, it makes for rather shoddy entertainment.
The plot is virtually a retread of the original film, with a couple of new characters introduced. The performances are atrocious, but it's doubtful that the target demographic would care too much about that. Unfortunately, the fight choreography isn't too great either.
3/10