Monsters vs Aliens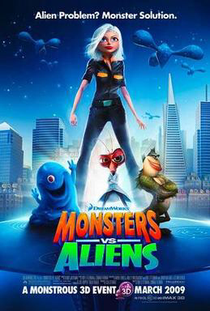 MONSTERS VS ALIENS (PG)
D: Conrad Vernon & Rob Letterman
Paramount/Dreamworks (Lisa Stewart)
US 2009
94 mins
Animated
W: Maya Forbes, Wallace Wolodarsky, Jonathan Aibel, Glenn Berger, Rob Letterman & Conrad Vernon
Mus: Henry Jackman
Reese Witherspoon (Susan Murphy / Ginormica), Seth Rogen (B.O.B.), Hugh Laurie (Dr. Cockroach), Will Arnett (The Missing Link), Rainn Wilson (Gallaxhar), Kiefer Sutherland (General W.R. Monger)
A decent 3-D animated sci-fi for kids with a story which is exactly as the title would suggest.
Reese Witherspoon provides vocal talent for the lead role of Susan Murphy, whose wedding is ruined by her turning into a giant and imprisoned by the government, who dub her Ginormica.
When an alien invasion take place, Ginormica and an assortment of other monster creatures are released from the top secret facility to save the day.
It isn't particularly demanding and does offer some moments of amusement, especially for younger audiences.
6/10