Monster House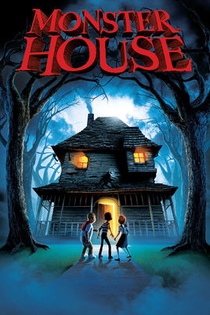 MONSTER HOUSE (PG)
Columbia/Relativity Media/Amblin (Steve Starkey & Jack Rapke)
W: Dan Harmon, Rob Schrab & Pamela Petter
voices of: Steve Buscemi (Mr. Nebbercracker), Mitchell Musso (D.J.), Sam Lerner (Chowder), Spencer Locke (Jenny), Maggie Gyllenhaal (Elizabeth), Kevin James (Officer Landers)
Surprisingly, this is an animated film that will be appreciated more by adults than it probably would be by children. 
A trio of young children investigate why the creepy house across the street has its reputation and why its cantankerous owner, Mr. Nebbercracker is so protective of his land. 
What could have been a lazy Scooby Doo ripoff becomes a well-written animated mystery with elements of Rear Window and The Old Dark House embedded into a plot. Steven Spielberg and Robert Zemeckis were key executives on this project, and together they deliver a piece of animation good enough to rival the output of Disney and Pixar.
6/10