Moneyball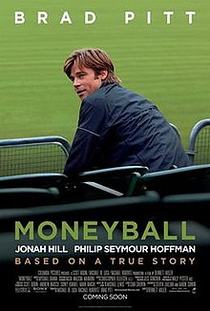 MONEYBALL (15)
Columbia (Brad Pitt, Michael de Luca & Rachel Horovitz)
W: Steven Zaillian & Aaron Sorkin [based on the book "Moneyball: The Art Of Winning An Unfair Game" by Michael Lewis]
Ed: Christopher Tellefsen
Brad Pitt (Billy Beane), Jonah Hill (Peter Brand), Philip Seymour Hoffman (Art Howe), Chris Pratt (Scott Hatteberg), Robin Wright (Sharon), Kerris Dorsey (Casey)
I have very little interest in baseball as a sport, but baseball movies are a completely different animal. The secret of any good sports movie is that you don't need to have an interest in that particular sport to embrace the movie.
Moneyball is all about the business angle of the sport, as Brad Pitt & Jonah Hill attempt to build a championship winning side on a limited budget for the Oakland A's based on statistical analysis. Aaron Sorkin & Steve Zaillian write a screenplay with peppy dialogue and realistic characters which make this almost into a Jerry Maguire (qv) minus the love story. The only drawback is that it does tend to champion sport as a business rather than the sport itself, but perhaps this is an indictment of modern day sports entertainment in itself.
Personally, I think this is right up there with Brad Pitt's finest ever performances, but the real revelation is Jonah Hill, providing that he has more strings to his bow than just teen-targeted stoner comedies.
8/10