Moana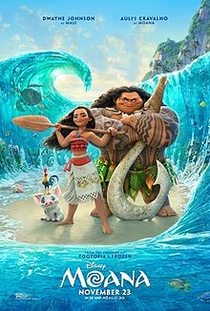 MOANA (U)
D: John Musker & Ron Clements
Disney (Osnat Shurer)
US 2016
107 mins
Animated
W: Jared Bush
Mus: Mark Mancina; Lin-Manuel Miranda
Voices of: Auli'i Cravalho (Moana), Dwayne Johnson (Maui), Rachel House (Tala), Temeura Morrison (Tui), Jermaine Clement (Tamatoa), Nicole Scherzinger (Sina), Alan Tudyk (Heihei)
Moana is a collection of Polynesian folk stories given the Disney treatment, and was very well received by audiences, as well as critics who praised not only its representation of Polynesian people, but also utilising a well-sourced cast.
The plot is basically Aladdin with a female lead, but it does manage to stay fresh and original, helped with songs penned by Lin-Manuel Miranda whose Broadway musical Hamilton was hugely popular at the time of Moana's release.
Moana is a Polynesian princess who is chosen by the ocean to return a precious pearl to the goddess it belongs to, but first she needs the help of a shapeshifting Demigod named Maui to show her the way. 
It really is your standard Disney adventure, dressed up as something more to please a social media crowd who felt there haven't been enough movies like this in the past where female characters from ethnic backgrounds are given the spotlight (although 1998's Mulan is one which immediately comes to mind).
Nevertheless, Moana is a very good animated film which will certainly appeal to a wide family audience.
7/10