Missing Link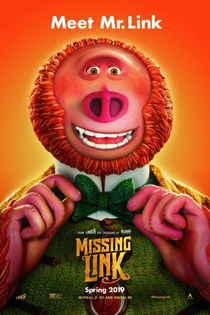 MISSING LINK (PG)
D: Chris Butler
United Artists/Annapurna/Laika (Arianne Sutner & Travis Knight)
US 2019
94 mins
Animated
W: Chris Butler
Mus: Carter Burwell
voices of: Hugh Jackman (Sir Lionel Frost), Zach Galifianakis (Mr. Susan Link), Zoe Saldana (Adelina Fortnight), Stephen Fry (Lord Pigott-Dunceby), Timothy Olyphant (Willard Stenk), Emma Thompson (Yeti Elder)
Hugh Jackman provides the voice of Sir Lionel Frost, an ambitious explorer who investigates mythical and legendary monsters, much to the amusement of his snobby, arrogant peers. As a wager, he goes on the hunt for the Sasquatch and discovers Mr. Link, a Bigfoot creature who needs the adventurer's expertise to find his relatives.
The story is very easy-going and should provide enough entertainment for a family audience & the last act provides a thrilling showdown. 
The stop-motion animation is excellent throughout, proving this to be another winner from Laika studios.
6/10