Misery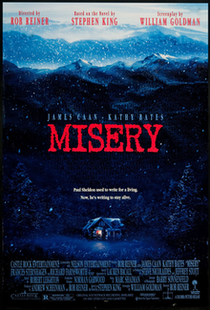 MISERY (18)
Medusa/Castle Rock/Nelson (Andrew Scheinman & Rob Reiner)
W: William Goldman [based on the novel by Stephen King]
James Caan (Paul Sheldon), Kathy Bates (Annie Wilkes), Richard Farnsworth (Buster), Frances Sternhagen (Virginia), Lauren Bacall (Marcia Sindell)
Adapted from Stephen King's novel and bolstered by a manic, wide-eyed performance from Kathy Bates, Misery is amongst the better works of the horror author's adaptations.
Injured in a car accident, writer Paul Sheldon is taken in by a reclusive nurse Annie Wilkes, who claims to be his biggest fan, but the crazed woman takes badly to the news that his new book is the final part of a best-selling series and forces him against his will to re-write it.
Bates' absolutely steals this movie as the psychopathic carer, delivering one of the most memorable villainous performances in screen history. You have to have a strong stomach for some of the film's more grizzly moments, particularly the infamous "hobbling scene". Not for weak stomachs.
8/10