Midnight Run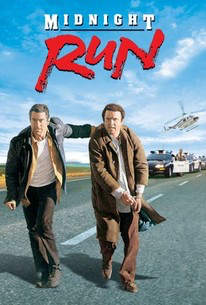 MIDNIGHT RUN (18)
W: George Gallo
Ed: Billy Weber, Chris Lebenzon & Michael Tronick
Mus: Danny Elfman
Robert De Niro (Jack Walsh), Charles Grodin (Jonathan Mardukas), Yaphet Kotto (Alonso Mosely), John Ashton (Marvin Dorfler), Dennis Farina (Jimmy Serrano), Joe Pantoliano (Eddie Moscone), Richard Foronjy (Tony Darvo), Robert Miranda (Joey), Jack Kehoe (Jerry Geisler), Wendy Phillips (Gail)
Robert DeNiro never received much praise for the comedy roles which he took up, but Midnight Run is one film for which he deserves kudos, despite playing it straight and the laughs coming from the mismatched partner scenario with a twist.
DeNiro plays independent bounty hunter Jack Walsh, hired by a bail bonds agency to locate a former mob accountant (Charles Grodin) and return him to custody. What follows is a road trip from hell as he locates his man, but has a harder time than he expects getting him back from New York to California, pursued all the while by a pair of incompetent mobsters, tenacious FBI agents and a former colleague with a grudge 
It's a fantastic twist on the "Planes, Trains & Automobiles" formula, with a charmingly hilarious interaction between the two lead characters.
It's not quite DeNiro's best film, but it's certainly one of his most underrated.
8/10