Midnight in Paris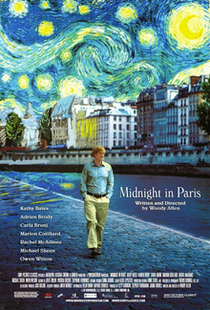 MIDNIGHT IN PARIS (15)
Sony Pictures Classics/Gravier/Mediapro (Letty Aronson, Stephen Tenenbaum & Jaume Roures)
W: Woody Allen
Owen Wilson (Gil Pender), Rachel McAdams (Inez), Marion Cotillard (Adriana), Michael Sheen (Paul Bates), Adrien Brody (Salvador Dali), Kathy Bates (Gertrude Stein)
Love him or hate him, it can't be denied that, on occasion, Woody Allen is an exceptional storyteller.
Midnight In Paris seems like a very personal project for the writer-director. A love letter to Paris, the 1920's and the age of Belle Époque.
Owen Wilson plays a disillusioned writer who strolls through Paris at night and travels back to a time where he soirees with F. Scott Fitzgerald, Ernest Hemingway, Salvador Dali, Pablo Picasso and other famous figures who inspire him in his own work. 
It's not too far different from the BBC sitcom Goodnight Sweetheart and is quite self-indulgent Woody Allen. It doesn't stop it being a good film and possibly Allen's best work since Bullets Over Broadway.
7/10