Midnight Express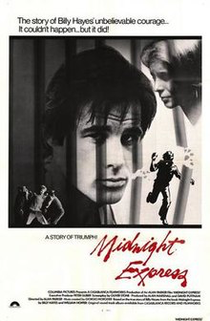 MIDNIGHT EXPRESS (18)
D: Alan Parker
Columbia/Casablanca (Alan Marshall & David Puttnam)
W: Oliver Stone [based on the book by Billy Hayes & William Hoffer]
Ed: Gerry Hambling
Mus: Giorgio Moroder
Brad Davis (Billy Hayes), Randy Quaid (Jimmy Booth), John Hurt (Max), Irene Miracle (Susan), Bo Hopkins (Tex), Paul Smith (Hamidou)
A brutally uncomfortable watch, but a film which simply can't be ignored. Based partly on the true story of Billy Hayes, an American student caught attempting to smuggle hashish bars out of a Turkish airport and given a lengthy sentence in a squalid prison as a scapegoat so others wouldn't attempt the same.
In utter despair from his ordeal and desperate to see his family again, he sees the opportunity to take the "midnight express" (i.e. escape).
Certain events in the film are exaggerated and embellished from the truth, but it's all for dramatic impact, rather than what the PC brigade would call racism. The prison depicted in the film has caused some embarrassment for Turkey in the years since, for which screenwriter Oliver Stone has had to apologise, but it cannot be denied that the events in this film can't be forgotten.
8/10