Men in Black (trilogy)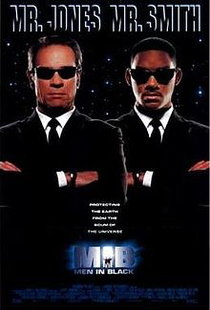 MEN IN BLACK (PG)
Columbia/Amblin (Walter F. Parkes & Laurie MacDonald)
Science Fiction/Action/Comedy
W: Ed Solomon [based on the comics by Lowell Cunningham]
Mus: Danny Elfman
PD: Bo Welch
Will Smith (Agent J), Tommy Lee Jones (Agent K), Linda Fiorentino (Dr. Laurel Weaver), Vincent D'Onofrio (Edgar), Rip Torn (Agent Zed), Tony Shalhoub (Jeebs)
With his stock rising high following the huge success of Independence Day (qv) in 1996, Will Smith stuck with the sci-fi blockbusters for 1997's Men In Black, a comic book adventure with a big dose of comedy injected.
Stripped of his identity and recruited into a top secret government agency which tracks and controls extra-terrestrial life, both he and his veteran partner, Tommy Lee Jones, uncover a plot to destroy their universe.
There's some excellent make up, visual effects and production design some crafty little in-jokes wedged into the story, but it will still appeal much more to younger audience members than adults. Still, it's good fun.
7/10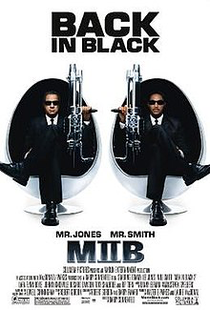 MEN IN BLACK II (PG)
Columbia/Amblin (Walter F. Parkes & Laurie MacDonald)
Science Fiction/Action/Comedy
W: Robert Gordon & Barry Fanaro [based on the comics by Lowell Cunningham]
Ed: Steven Weisberg & Richard Pearson
Will Smith (Agent J), Tommy Lee Jones (Agent K), Rip Torn (Agent Zed), Lara Flynn Boyle (Serleena), Rosario Dawson (Laura Vasquez), Tony Shalhoub (Jack Jeebs)
Virtually ignoring the end of the first film to reunite Will Smith & Tommy Lee Jones' characters, this sequel is more or less a retread of the first film with a female villain (a woefully cast Lara Flynn Boyle) with motives which don't stray too far from the 1997 movie.
It gives off the impression that the cast and crew were only in it for the money. 
The atrociously poor visual effects really should have been subject for a refund. 
4/10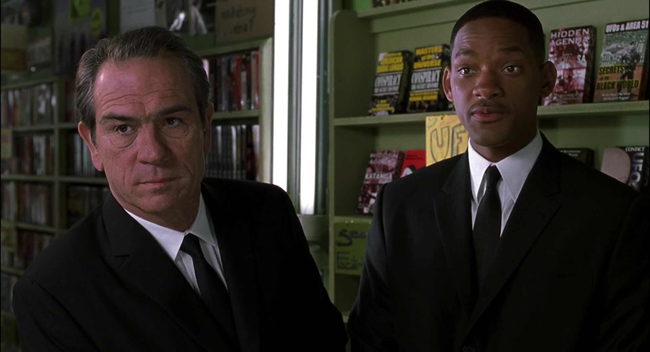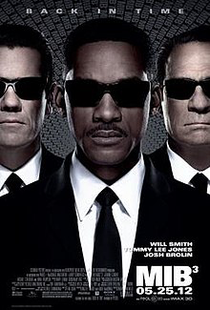 MEN IN BLACK 3 (PG)
Columbia/Amblin (Walter F. Parkes & Laurie MacDonald)
Science Fiction/Action/Comedy
W: Etan Cohen [based on the comics by Lowell Cunningham]
Will Smith (Agent J), Tommy Lee Jones (Agent K), James Brolin (Young Agent K), Jermaine Clement (Boris the Animal), Michael Stuhlbarg (Griffin), Emma Thompson (Agent O)
A big improvement on the first sequel, but it doesn't have anything on the original Men In Black, mostly because it makes absolutely no sense.
It deals with time travel, so it's probably best you ignore everything about metaphysics and just enjoy the movie for what it is. Agent J (Smith) must travel back to 1969 to save younger Agent K (Brolin). It keeps the same mismatched partner elements from the first films only this time it's in the sixties. 
The comedy isn't as prevalent as the first movie but there's enough action and adventure to entertain.
Will Smith does his usual and some of the supporting performances leave a lot to be desired (especially from Nicole Schertzinger, appearing in a cameo which should have gone to an actual actress). The biggest asset is Josh Brolin, who does an impeccable impersonation of a young Tommy Lee Jones. A shame the visual effects aren't quite up to the same standard.
6/10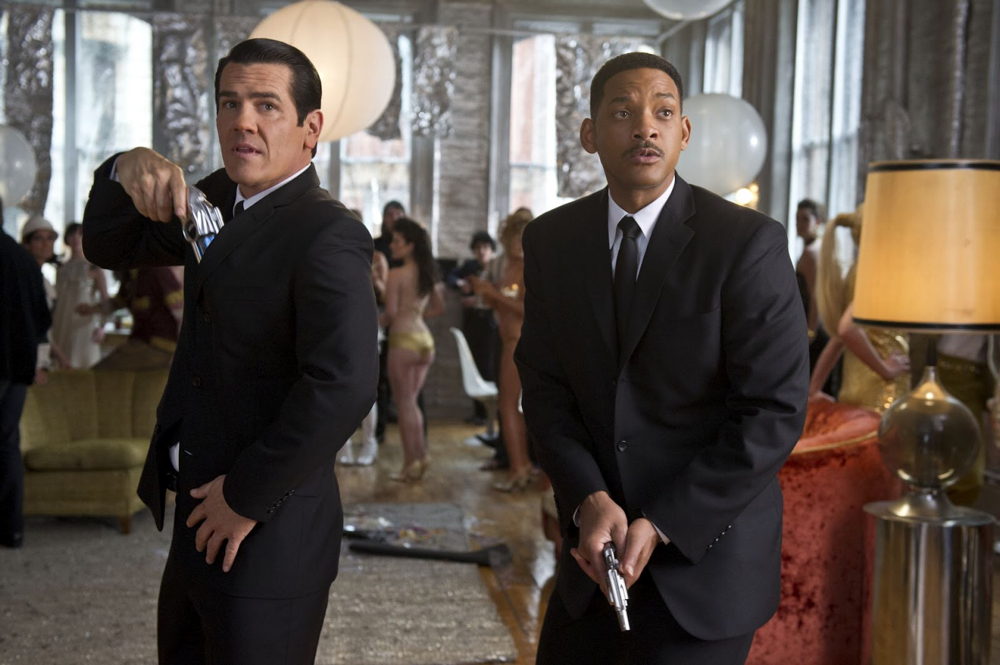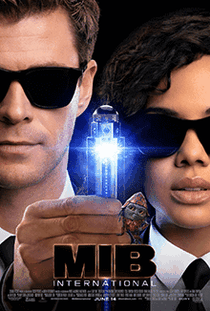 MEN IN BLACK: INTERNATIONAL (12)
D: F. Gary Gray
Sony/Columbia/Amblin/Image Nation/Tencent (Walter F. Parkes & Laurie MacDonald)
US 2019
115 mins
Science Fiction/Action/Comedy
W: Art Marcum & Matt Holloway [based on the comic books by Lowell Cunningham]
DP: Stuart Dryburgh
Ed: Zene Baker & Christian Wagner
Mus: Danny Elfman & Chris Bacon
Chris Hemsworth (Agent H), Tessa Thompson (Molly / Agent M), Liam Neeson (High T), Rafe Spall (Agent C), Kumail Nanjiani (voice of Pawny), Rebecca Ferguson (Riza Stavros)
A spin-off of the Men In Black series of films, substituting Will Smith & Tommy Lee Jones for Chris Hemsworth & Tessa Thompson as they investigate alien activities in the United Kingdom and Europe, uncovering another mystery where our entire universe stands in peril.
If it emerged that this was the original plot of Men In Black II, I don't think anyone would have batted an eye, since the first film did end with Smith's Agent J pairing up with a female mortician turned MIB agent at the conclusion of the film. However, since this was released in 2019, when Hollywood seemed obsessed with gender-swapping roles, there'll be some who may think this comes off as a little forced, although I don't necessarily agree.
The film is as expected, a fun action adventure with a sci-fi twist aimed at a younger audience with a good central partnership between the two leads, it's just a shame that the supporting performances aren't up to the same level, particularly Rafe Spall, who ruins every single scene in which he appears. Yes, it is more of the same and the formula feels a little tired now, but there are far worse ways to spend 115 minutes.
5/10