Memoirs of a Geisha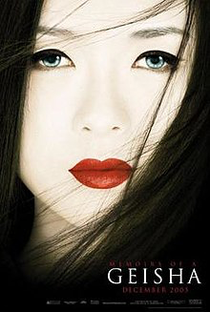 MEMOIRS OF A GEISHA (12)
Columbia Tristar (Lucy Fisher, Douglas Wick & Steven Spielberg)
W: Robin Swicord [based on the novel by Arthur Golden]
DP: Dion Beebe
Mus: John Williams
PD: John Myhre
Cos: Colleen Atwood
Zhang Ziyi (Sayuri), Ken Watanabe (The Chairman), Michelle Yeoh (Mameha), Koji Yakusho (Nobu), Youki Kudoh (Pumpkin), Kaori Momoi (Mother), Gong Li (Hatsumomo)
Beautiful to look at from the opening frame, with rich cinematography and lush costumes just two of the merits that make this cinematic eye candy.
A young girl is sold by her father into the life of a geisha, where she is initially bullied by the head girl, but becomes mentored by a rival to become one of the most desired women in pre-WWII Japan.
Though the production is very well presented, it's 'Hollywood deluxe', with no real authenticity to early 20th century Japan, especially with the casting choices of Chinese actresses, though both Zhang Ziyi and Gong Li are excellent in their roles, the former of whom is an effortless natural beauty.
The story doesn't quite defend the lengthy running time, but your eyes will appreciate watching it.
6/10