Mean Streets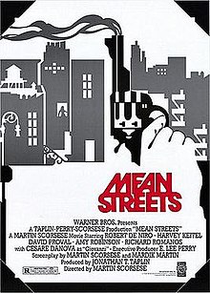 MEAN STREETS (18)
D: Martin Scorsese
Universal (Jonathan Taplin)
W: Martin Scorsese & Mardik Martin
Harvey Keitel (Charlie), Robert DeNiro (Johnny Boy), David Proval (Tony), Richard Romanus (Michael)
Martin Scorsese's original gangster piece, long before his later crime dramas Goodfellas & Casino, stars Harvey Keitel & Robert DeNiro in early roles as a pair of hoodlums in 1960's New York and their petty crime sprees as they attempt to make a name for themselves.
Keitel's performance carries the picture, sticking up for his friend's continual  screw-ups and wrestling with his own conscience.         
There are some similarities to Goodfellas (qv), but those expecting a "Goodfellas Jr" may feel short-changed, but it's notable as the film for which the director found his identity as a filmmaker.
The soundtrack of popular hit songs around the time is exemplary.
8/10