Mean Girls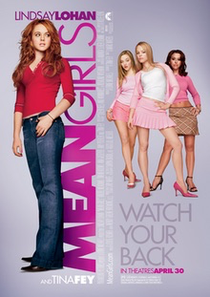 MEAN GIRLS(12)
D: Mark Waters
Paramount/Broadway (Lorne Michaels)
US 2004
97 mins
Comedy
W: Tina Fey [based on the book "Queen Bees & Wannabes" by Rosalind Wiseman]
DP: Daryn Okada
Ed: Wendy Greene Bricmont
Mus: Rolfe Kent
Lindsay Lohan (Cady Heron), Rachel McAdams (Regina George), Lacey Chabert (Gretchen Wieners), Amanda Seyfried (Karen Smith), Lizzy Caplan (Janis Ian), Jonathan Bennett (Aaron Samuels), Daniel Franzese (Damian Leigh), Tina Fey (Ms. Norbury)
A smarter than average teen comedy, featuring Lindsay Lohan's best performance and launching the careers of several other cast members.  
Lohan plays the new girl at a high school who falls under the influence of the popular clique and eventually sabotages friendships in the process.
A hugely popular movie since it's 2004 release, its success is mostly due to Tina Fey's insightful script, based on a book which didn't actually have a narrative and was more a self-help guide for young girls. The social observation prevalent through the first half of the movie does subside towards the closure, but it's still a thoroughly enjoyable movie with far more clout than many of the other films which set up a similar premise.
A straight to video sequel followed, but didn't receive the same attention.
7/10