The Masque of the Red Death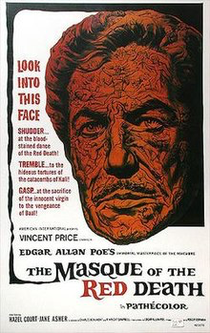 THE MASQUE OF THE RED DEATH (15)
D: Roger Corman
AIP/Alta Vista (Roger Corman)
W: Charles Beaumont & R. Wright Campbell [based on the story by Edgar Allan Poe]
DP: Nicolas Roeg
PD: Robert Jones
Cos: Laura Nightingale
Vincent Price (Prince Prospero), Hazel Court (Juliana), Jane Asher (Francesca), Patrick Magee (Alfredo), John Westbrook (The Red Death)
Roger Corman's striking horror classic is as picturesque as a living canvas, Vincent Price stars as a devil-worshipping medieval prince who holds a ball in his castle while a plaque rages outside his walls, but Death is an uninvited guest.
The cinematography & production design make this film eminently watchable, whilst Price has great fun as the Machiavellian villain.
Arguably the best of all Corman's horror films.
8/10