Mask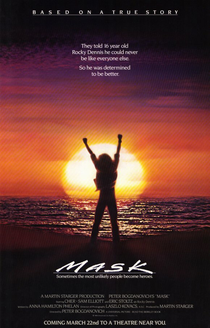 MASK (15)
Universal (Martin Starger)
W: Anna Hamilton Phelan [based on the true story of Rocky Dennis]
Cher (Rusty Dennis), Sam Elliott (Gar), Eric Stoltz (Rocky Dennis), Laura Dern (Diana Adams), Estelle Getty (Evelyn Tallis), Richard Dysart (Abe Tullis)             
Mask is the extraordinary true story of Rocky Dennis, a teenager born with a rare deformity in his facial bones which give him an unusual, unique appearance and a short life expectancy. His mother, Rusty, is a member of a Hell's Angels-like biker gang, addicted to alcohol and drugs. They both attempt to live as normal a life as possible under the circumstances and while Rocky excels academically, his mother finds it difficult to keep herself clean and sober.
Cher and Eric Stoltz (beneath unrecognisable makeup) deliver astounding performances and it must be considered a crime that Cher didn't at least receive an Oscar nomination for her performance (Stoltz deserved one too). It did win an Academy Award in the sole category it was nominated- Best Makeup, but to be ignored in all other categories must be considered one of the all-time awards snubs. Though it looks and seems like a TV movie-of-the-week, this is still amongst the best films of 1985 and deserved more recognition.
Not to be confused with the 1994 film The Mask, starring Jim Carrey.
8/10