Mary, Queen of Scots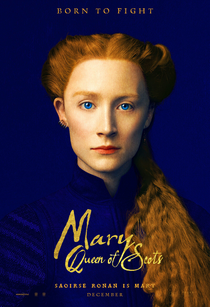 MARY QUEEN OF SCOTS (12)
D: Josie Rourke
Focus Features/Working Title/Perfect World (Tim Bevan, Eric Fellner & Debra Hayward)
UK/USA 🇬🇧 🇺🇸 2018
125 mins
Drama/Historical
W: Beau Willimon [based on the book "Queen of Scots: The True Life of Mary Stuart" by John Guy]
DP: John Mathieson
Ed: Chris Dickens
Mus: Max Richter
Saoirse Ronan (Mary, Queen of Scotland), Margot Robbie (Queen Elizabeth I), Guy Pearce (William Cecil), David Tennant (John Knox), Joe Alwyn (Robert Dudley)
The 'woke' version of Mary Queen Of Scots. Impeccably well made, but the narrative is so dull, with not much happening as it spends two hours leading up to two women merely saying that they don't need no man to have power. 
Historical inaccuracies are also abound in this adaptation, which I'd be willing to forgive if it wasn't so damn boring, building up tension in royal affairs as the protestant Queen Elizabeth I finds her position on the English throne threatened when her Catholic cousin, the Queen of Scotland, Mary Stuart returns home following the death of her husband in France. The narrative teases us with stirring conflict but there's no payoff aside from a fictional meeting between the two ladies, followed by the martyrdom of the Scottish Queen.
The film is well acted by its two main performers, as well as being well photographed and having excellent production detail, costumes and makeup. Even the music is great. It's just the boring screenplay which makes this such a dirge to watch.
The best way to describe the movie as a whole would be to say that it's less than the sum of all its parts. I'm just going to leave it at that.
6/10