Mary Poppins (1964/2018)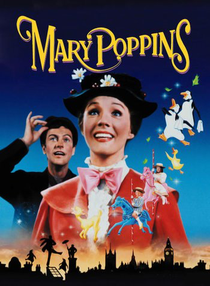 MARY POPPINS (U)
D: Robert Stevenson
Disney (Walt Disney & Bill Walsh)
W: Bill Walsh & Don da Gradi [based on the books by P. L. Travers]
Ed: Cotton Warburton
Mus: Irwin Kostal; Richard M. Sherman & Robert B. Sherman
Julie Andrews (Mary Poppins), David Tomlinson (Mr. Banks), Glynis Johns (Mrs. Banks), Dick Van Dyke (Bert/Mr. Dawes, Sr.), Matthew Garber (Michael Banks), Karen Dotrice (Jane Banks), Hermione Baddeley (Ellen), Elsa Lanchester (Katie Nanna)
The original author of the series of books may not approve of Disney's adaptation of her work, but Mary Poppins is a timeless classic which is still capturing the imaginations of children over half-a-century after its original release.
Julie Andrews is the perfect choice as the magical nanny, who floats into London on her umbrella to teach two slightly naughty Edwardian children to make life enjoyable for both themselves and others, as well as building the fractured relationship between them and their stern father, a city banker.
All the songs, penned by the Sherman Brothers, are memorable, and even Dick Van Dyke's unconvincing performance as a Cockney street artist remains sticks in the memory.
Positively charming and a timeless childhood classic for kids of all ages. Practically perfect in every way.
9/10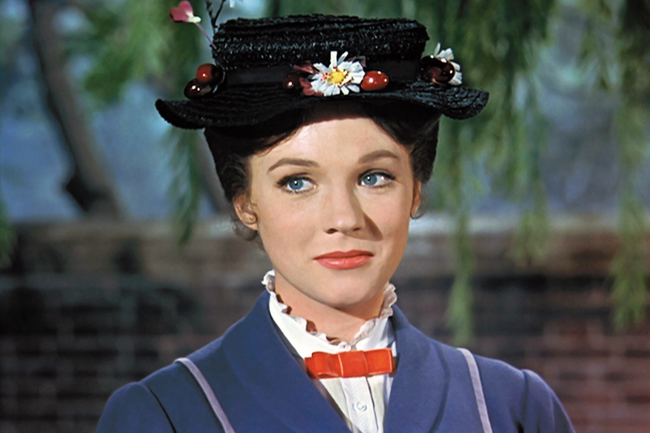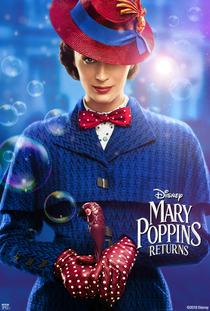 MARY POPPINS RETURNS (U)
D: Rob Marshall
Disney (Marc Platt, John DeLuca & Rob Marshall)
US 2018
130 mins
Musical/Fantasy
W: David Magee [based on characters created by P.L. Travers]
DP: Dion Beebe
Ed: Wyatt Smith
Mus: Marc Shaiman
PD: John Myhre
Cos: Sandy Powell
Emily Blunt (Mary Poppins), Lin-Manuel Miranda (Jack), Ben Whishaw (Michael Banks), Emily Mortimer (Jane Banks), Pixie Davies (Annabel Banks), Nathanael Saleh (John Banks), Joel Dawson (Georgie Banks), Julie Walters (Ellen), Colin Firth (William Wilkins), Meryl Streep (Topsy), Dick Van Dyke (Mr. Dawes, Jr.)
Setting a new record of 54 years between the original film and its sequel, Mary Poppins returns to capture the hearts of children and adults alike with more magical adventures.
The original film is considered by many, including myself, an absolute classic, so the bar was set incredibly high and Emily Blunt had some big shoes to fill, replacing Julie Andrews as the title character.
Set many years after the original in depression era London, the Banks children from the original movie are now grown up, Michael with three children of his own (although his wife has passed on) and his sister Jane is a political campaigner for a working class movement. Given a week to save their family home from repossession from the bank, the magical nanny returns to bring a little joy back into everyone's lives.
The plot does copy the stencil of the first movie, but does so in quite a refreshing and original way, helped by Emily Blunt's performance, who does her own thing with the character but still brings a wonderful presence to the role which Julie Andrews did brilliantly in the original. Lin-Manuel Miranda also stars as a lamplighter, much similar to the role of Bert from the original film.
If I were to nitpick, it would be about the pantomime villain bank manager and a few of the casting decisions which seem a bit distracting and totally out of place, but what it does do it does very well, especially in dealing with a theme of loss. 
As a fan of the original, it does capture the magic with the visuals, especially in the fantastic production design which recreates Cherry Tree Lane just as it was in the 1964 movie, and the choice of using hand-drawn animation for the visual effects set pieces instead of computer generated imagery. It's just a shame that the songs in this are nowhere near as catchy as memorable as those penned by The Sherman Brothers in the original classic, although it has to be said that the bar was set incredibly high there and only time will tell if the songs in this will carry any weight.
Fans of the original will certainly have nostalgic feelings attached going into it, and I'd understand if some were disappointed with this new vision, and it's difficult to judge how younger children would view this, if they didn't have any affiliation with the original film.
Overall, I didn't think it was super, but it was califragilisticexpialidocious.
7/10