Marnie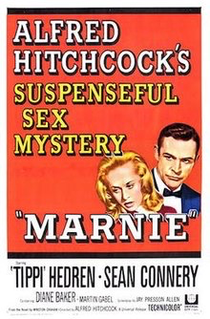 MARNIE (PG)
D: Alfred Hitchcock
Universal/Godfrey Stanley (Alfred Hitchcock)
US 1964
130 mins
Thriller
W: Jay Presson Allen [based on the novel by Winston Graham]
DP: Robert Burks
Ed. George Tomasini
Mus: Bernard Herrmann
Tippi Hedren (Marnie Edgar), Sean Connery (Mark Rutland), Diane Baker (Lil Mainwaring), Martin Gabel (Sidney Strutt), Louise Latham (Bernice Edgar)
The master of suspense turns his attentions to psychological thriller for this adaptation of Winston Graham's novel.
Tippi Hedren plays the title character, a kleptomaniac with a seemingly irrational fear of the colour red who changes her identity as she goes from job to job being employed as a payroll clerk, only to empty the safes and move onto her next victim.
She finds herself in the employment of Mark Rutland, a suave businessman who isn't foolish enough to fall for her ruse and blackmails her into marrying him, only to discover that she's sexually frigid and harbours deep secrets going back to her childhood which have caused a tetchy relationship with her own mother.
It's a rather lethargically paced film from Hitchcock, as the pieces of the puzzle all seem to fall into place very slowly, but the glossy cinematography strong performances make it watchable, especially from the eminently captivating Tippi Hedren. 
It's fair to say that this is one of the great directors "lesser" movies, but it's certainly worth a viewing if you're a fan of his work- and perhaps even if you aren't.
7/10