Manhattan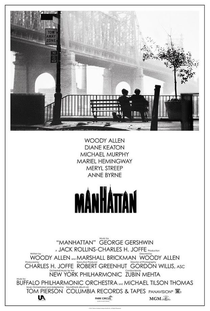 MANHATTAN (15)
United Artists (Charles H. Joffe)
W: Woody Allen & Marshall Brickman
DP: Gordon Willis
Woody Allen (Isaac Davis), Diane Keaton (Mary Wilke), Michael Murphy (Yale), Mariel Hemingway (Tracy), Meryl Streep (Jill)
Woody Allen's love story to New York and the romantic tribulations of its residents, opening with a crescendo of George Gershwin's music and a montage of New York vistas and scenery.
Allen plays the usual neurotic character to which he's become accustomed, a comedy TV show writer going through a midlife crisis following a bitter divorce from his wife (Meryl Streep), who is now dating another woman.
Allen himself is in a relationship with a 17-year-old drama student, but the age gap sees him find love elsewhere, which he finds with superficial Manhattanite, Mary (Diane Keaton), who is secretly in love with Allen's best friend.
Some viewers will certainly find the on-screen relationship between Woody Allen and Mariel Hemingway leaves a bad taste in their mouths, but when you consider that the entire film is about how self-serving and corrupt relationships can be it makes it a little easier to swallow. Still, retrospectively, its still a little difficult to accept.
Fans of Allen's work will class this as one of this very best (perhaps a little short of his superior Annie Hall) while those who don't like Allen would find a little bit of enjoyment from Gordon Willis' exquisite cinematography.
7/10