Manchester By The Sea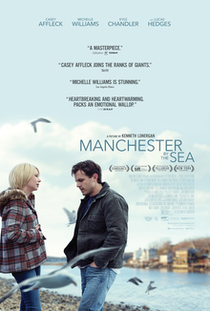 MANCHESTER BY THE SEA (15)
D: Kenneth Lonergan
Amazon/Roadside Attractions/K Period/Pearl Street (Matt Damon, Kimberley Steward, Chris Moore, Kevin J. Walsh & Lauren Beck)
US 2016
137 mins
Drama
W: Kenneth Lonergan
DP: Jody Lee Lipes
Ed: Jennifer Lame
Mus: Lesley Barber
Casey Affleck (Lee Chandler), Lucas Hedges (Patrick Chandler), Kyle Chandler (Joe Chandler), Michelle Williams (Randi), Gretchen Mol (Elise Chandler)
Originally intended as a project for Matt Damon (who still served as producer), Casey Affleck delivers the performance of his career as Lee Chandler, a grief-stricken loner who receives the news that he is to be his nephew's guardian following the death of his brother.
Though the film follows a linear narrative of the relationship between the two characters, while some back story unfolds with a series of flashbacks that explain the reasons for Lee's depression and reluctance to occupy himself with social interaction.
The film isn't an easy watch, with Kenneth Lonergan's unsympathetic directorial style dragging you further in to Lee's world. What makes the film magnetic viewing is the excellent performances of Casey Affleck, Lucas Hedges and Michelle Williams.
It wouldn't be too far off the mark to call Manchester By The Sea 2016's equivalent of Ordinary People (qv). It is a solid drama, but you may not wish to subject yourself to repeat viewings.
8/10