The Man From U.N.C.L.E.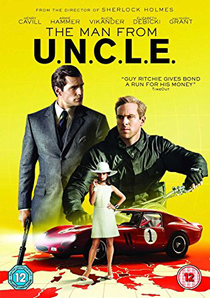 THE MAN FROM U.N.C.L.E. (12)
Warner Bros/Ratpac-Dune (John Davis, Steve Clark-Hall, Lionel Wigram & Guy Ritchie)
W: Guy Ritchie & Lionel Wigram [based on the television series created by Ian Fleming, Norman Felton & Sam Rolfe]
Henry Cavill (Napoleon Solo), Armie Hammer (Ilya Kuryakin), Alicia Vikander (Gabriella Teller), Elizabeth Debicki (Victoria Vinciguella), Jared Harris (Adrian Sanders), Hugh Grant (Alexander Waverly)
The Man From U.N.C.L.E. is yet another iconic TV series to receive the big screen treatment in the 21st century and the overall result isn't disappointing.
The original TV programme was a little before my time, so although I'm aware of the name, I'm quite unfamiliar with the characters, plot and formula. I can only judge for the film on its own merits and though comparisons are drawn with James Bond movies, I can only attribute this to the involvement of Ian Fleming.
Rival agents (Henry Cavill of the CIA and Armie Hammer of the KGB) must pool their talents to accompany a young East German woman across the border and reunite her with her father, who is reportedly involved with another spy agency who have plans for their nuclear arms.
The storyline here isn't too dissimilar from anything which has been seen or done many times before, but there's enough gloss in the execution to give it an original sheen, while the main trio of Cavill, Hammer and Vikander works quite well.
Style over substance, certainly, but it's relatively good fun.
6/10