A Most Wanted Man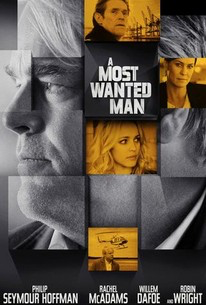 A MOST WANTED MAN (15)
Lionsgate/Demerest/Potboiler/Film4 (Stephen Cornwell, Gail Egan, Malte Grunert, Simon Cornwell, Andrea Calderwood)
W: Andrew Bovell [based on the novel by John le Carré]
Philip Seymour Hoffman (Günther Bachmann), Rachel McAdams (Annabel Richter), Willem Dafoe (Tommy Brue), Robin Wright (Martha Sullivan), Grigoriy Dobrygin (Issa Karpov), Daniel Brühl (Max), Nina Hoss (Irna Frey), Homayoun Ershadi (Dr. Faisal Abdullah)
Like most John le Carré adaptations, A Most Wanted Man is a heavy-going political thriller with a complex backstory and meandering, long-winded narrative.
Philip Seymour Hoffman, in his last perfomance before his untimely death, plays a government agent with a history. He targets a Muslim terrorist with links to 9/11 and arranges his own team to bring him to justice, while a rival agency want to be the ones to get their man first.
The complexities of the plot never really solve themselves, and though the film can be commended for its anti-Hollywood ending, the film is merely a shaggy dog story.
Worth watching for Philip Seymour Hoffman's swansong, but it isn't a thriller that will be most wanted by everyone.
6/10