The Lost Weekend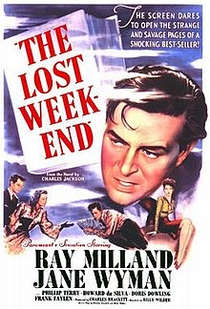 THE LOST WEEKEND (PG)
D: Billy Wilder
Paramount (Charles Brackett)
W: Billy Wilder & Charles Brackett [based on the novel by Charles R. Jackson]
Mus: Miklos Rozsa
Ray Milland (Don Birnam), Jane Wyman (Helen St. James), Phillip Terry (Nick Birnam), Howard DaSilva (Nat), Doris Dowling (Gloria), Frank Faylen (Bim)
A serious film from a brilliant director whose talents span a multitude of cinematic genres. 
The Lost Weekend was the first Hollywood studio film to deal with the subject of alcoholism, starring Ray Milland as an aspiring author who tries to overcome writer's block by hitting the bottle in a weekend which sees him spiral deeper and deeper into his addiction and dependency.  
Though certain elements of the picture are dated, the message is still relevant, while director Billy Wilder uses a touch of symbolism and surrealism to make our protagonists plight even more dramatic, utilising moody black and white photography by John Seitz and an eerie music score by Miklos Rozsa. It was Ray Milland's performance which earned all the plaudits, including a Best Actor Oscar, and thoroughly deserved too.
Winner of 1945's Academy Award for Best Picture.
9/10