The Longest Day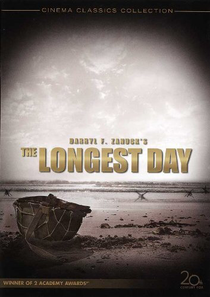 THE LONGEST DAY (PG)
D: Ken Annakin, Andrew Marton & Bernhard Wicki
20th Century Fox (Darryl F. Zanuck)
W: Cornelius Ryan, Romain Gary, James Jones, David Pursall & Jack Seddon [based on the book by Cornelius Ryan]
DP: Jean Bourgoin & Walter Wodditz
Ed: Samuel E. Beetley
John Wayne (Col. Benjamin Vandervoort), Robert Mitchum (Brig. Gen. Norman Cota), Henry Fonda (Brig. Gen. Theodore Roosevelt), Robert Ryan (Brig. Gen. James Gavin), Rod Steiger (Destroyer Commander)
The Longest Day is a multi-faceted account of the D-Day Landings, focusing on preparation and strategy on both sides of the English Channel for two-thirds of the running time.
Considering the film was made in the early 1960's, the reconstruction of actual events is incredibly well done, incorporating real footage on occasion which sometimes works well, but not always.
A who's who compendium of big name actors from the era turn up on the cast bill of fare, some of whom are in blink-and-you'll-miss-them roles. 
Until Saving Private Ryan (qv) was released, this was the must-see film of the events which proved a turning point in WWII, and though it has become quite dated now, it's still worth a watch for big fans of war pictures.
8/10