The Loneliness of the Long Distance Runner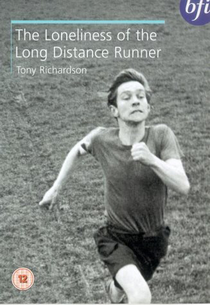 THE LONELINESS OF THE LONG DISTANCE RUNNER (15)
D: Tony Richardson
British Lion/Bryanston/Woodfall (Tony Richardson)
W: Alan Sillitoe [based on his short story]
Tom Courtenay (Colin Smith), Michael Redgrave (The Governor), Avis Bunnage (Mrs. Smith), Peter Madden (Mr. Smith), James Bolam (Mike)
Tony Richardson was a hugely important and influential British filmmaker at the turn of the 1960's, helping to create a sub-genre which came to be known as kitchen sink dramas, which made heroes out of working class men, occasionally on the wrong side of the law.
Tom Courtenay plays angry young man Colin Smith, serving a sentence at a Borstal prison and encouraged by the governor to participate in a sports day against a local public school. During his training for the big cross country race, he uses the solitude of the run to reflect upon his depressing life and the crime which brought him to prison.
The story sets up an ending which doubles up as a rebellious standoff between the young, disillusioned working class and the staid, conservative ruling class. 
Tom Courtenay's debut performance is excellent, deservedly winning him a BAFTA award for Most Promising Newcomer.
8/10