The Lobster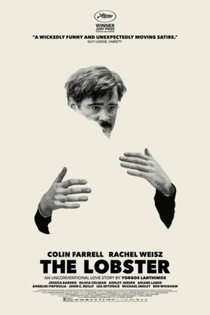 THE LOBSTER (15)
Picturehouse/Film 4 (Ed Guiney, Cecil Dempsey, Yorgos Lanthimos & Lee Magiday)
UK/Ireland/Greece/France 2015
Fantasy/Romance/Science Fiction
W: Yorgos Lanthimos & Efthymis Filippou
Colin Farrell (David), Rachel Weisz (Short-Sighted Woman), Jessica Barden (Nosebleed Woman), Olivia Colman (Hotel Manager), Ashley Jensen (Biscuit Woman), John C. Reilly (Lisping Man), Lea Seydoux (Loner Leader), Ben Whishaw (Limping Man)
The Lobster is an unorthodox love story set in a dystopian future where it is deemed illegal to be single. Those without a companion must check into a hotel where they are given 45 days to find a suitable partner and those who fail are turned into an animal of their own choosing.
Colin Farrell is a new guest at the hotel following the breakdown of his marriage and finds it difficult to follow the ridiculously stringent rules, eventually escaping from the grounds and hiding in the woods, where he becomes involved with a group of rebels, one of which he falls in love with.
The deadpan humour and unemotional delivery make this one of the funniest films of 2015, but the bizarre, often ambiguous story won't endear itself to everyone. The satire in the film's early scenes also pokes fun at dating rituals and etiquette, but the story does lose its way in the final third. 
A wonderfully weird piece of independent filmmaking.
6/10