The Lion King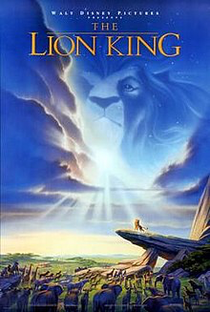 THE LION KING (U)
D: Roger Allers & Rob Minkoff
W: Irene Mecchi, Jonathan Roberts & Linda Woolverton
Mus: Hans Zimmer; Elton John & Tim Rice
voices of: Matthew Broderick (Simba), James Earl Jones (Mufasa), Jeremy Irons (Scar), Moira Kelly (Nala), Rowan Atkinson (Zazu), Jonathan Taylor Thomas (Young Simba)
Arguably the last of the traditional Disney classics. Following the death (murder) of his father, heir to the throne Simba goes into hiding while his evil Uncle Scar serves as king.
Simba returns as an adult to overcome the authoritarian and reclaim what is rightfully his.
Making a mint at the 1994 box office, The Lion King is widely regarded as the last traditional cel animated classic from the Goliath Hollywood studio, with songs penned by Elton John & Tim Rice which are as timeless as the film itself. A stage musical followed and has become hugely successful in its own right.
8/10