The Lion in Winter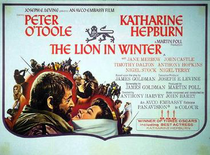 THE LION IN WINTER (PG)
D: Anthony Harvey
AVCO Embassy/Haworth (Martin Poll)
UK/US 1968
129 mins
Historical/Drama
W: James Goldman [based on his play]
DP: Douglas Slocombe
Ed: John Bloom
Mus: John Barry
PD: Peter Murton
Cos: Margaret Furse
Peter O'Toole (King Henry II), Katharine Hepburn (Eleanor of Aquitaine), Anthony Hopkins (Richard the Lionheart), John Castle (Geoffrey), Nigel Terry (John), Timothy Dalton (King Phillip II of France)
Set in the English royal court during Christmas 1183, The Lion In Winter is a sumptuous feast of masterful acting performances, led by Peter O'Toole as King Henry II and Katharine Hepburn as his spouse, Eleanor of Acquitaine, who returns to England for the festive period, but their reunion soon descends into bickering as the King cannot decide which of his three sons should inherit his crown after his death.
It's very much a talking picture, but the fine performances of the two leads and excellent supporting cast make it very watchable. Hepburn was good value for her Oscar win (the third of her career) and O'Toole was quite unfortunate to be only a nominee.  James Goldman also won Oscar gold for adapting his own stage play.
One tiny criticism would be that the sets look inauthentic and stagey, though considering the age of the film, this is quite forgivable.
8/10