The Lincoln Lawyer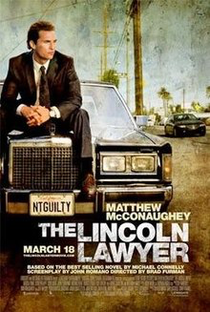 THE LINCOLN LAWYER (15)
Lionsgate/Lakeshore/Stone Village (Sidney Kimmell, Tony Lucchesi, Tom Rosenberg, Richard Wright & Scott Steindorff)
W: John Romano [based on the novel by Michael Connelly]
Matthew McConaughey (Mickey Haller); Marisa Tomei (Margaret McPherson); Ryan Philippe (Louis Ross Roulet); Josh Lucas (Ted Minton); John Leguizamo (Val Venezeula); Michael Peña (Jesus Martinez); Bob Gunton (Cecil Dobbs); Frances Fisher (Mary Windsor); Bryan Cranston (Detective Lankford)
With The Lincoln Lawyer, Matthew McConaughey began to take steps away from rom-com vehicles which had served his career for the best part of a decade and began to move into more serious, mature roles (leading to his winning of an Oscar for 2013's Dallas Buyers Club).
He plays Mickey Haller, a high-priced, reputable defence lawyer who conducts his business from the back seat of a limousine, rather than a plush office. He is hired by a wealthy woman to represent her son, who has been arrested on assault charges. 
Haller learns early on that his client is guilty, and the flesh of the story concerns the attorney in a battle with his own conscience on whether he can allow a guilty man walk free. 
The courtroom scenes are rather run-of-the-mill, but the film is worth watching simply for McConaughey's performance, which is excellent. Unfortunately, the same cannot be said for Ryan Philippe's acting skills, which are truly abysmal.
6/10