The Lego Movie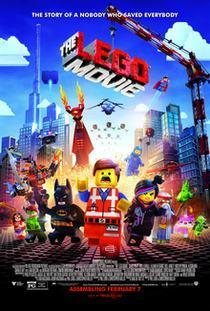 THE LEGO MOVIE (PG)
D: Phil Lord & Christopher Miller
Warner Bros./Village Roadshow/Dune (Dan Lin & Roy Lee)
US/Australia/Denmark 2014
Animated/Comedy/Adventure
W: Phil Lord, Christopher Miller, Dan Hageman & Kevin Hageman
voices of: Chris Pratt (Emmett Brickowski), Will Arnett (Bruce Wayne / Batman), Will Ferrell (Lord Business), Elizabeth Banks (Wyldstyle / Lucy), Nick Offerman (Metal Beard), Alison Brie (Princess Unikitty), Liam Neeson (Good Cop / Bad Cop)
Ordinarily, a film which relies on product placement would be committing a cardinal sin of filmmaking. When we go to the movies, the audience wants to see a movie, not a series of advertisements brainwashing us into product superiority (unfortunately a lot of films nowadays, especially Hollywood blockbusters, are guilty of this, mostly because of the financial help which comes along with it).
While The Lego Movie is fundamentally a feature-length advert for their product, it has to be an exception to the rule since it presents itself in such an inventive way. Lego doesn't really need to advertise either, it's made a fortune from its merchandise over the decades and will continue to do so ad infinitum, and while the film takes place in a universe created from the product, the brand is never actually mentioned- not once, during the running time.
The story itself perfectly reflects the entire point of the instruction vs creation argument of the product and could be easily described as The Matrix meets Toy Story, with a satirical anti-consumerism touch.
Set in the Lego universe where an evil president demands perfection, Emmet, an everyday 'yes man' construction worker goes about his by-the-book existence, adhering strictly to the instruction manual as he chirps through the toy-brick metropolis, along with everyone else, dancing merrily to the only song (generic, but very catchy) their world seems to know.  With the presidents diabolical plans to achieve perfection coming into affect, Emmet discovers "the piece of resistance", the only thing that can thwart the bad guy's "Kragle" machine, which will permanently freeze everyone in the Lego universe as how the instruction book would intend.
Emmet is then taken throughout other world's in the Lego universe by rebellious bike chick, Wyldstyle, wizard-like Vitruvius, and Batman as they try to make Emmet discover his potential as the only one who can save their world, which he can only do after he discovers the truth about their reality.
The film draws on many other genres and influences, featuring many in-jokes to other franchises, cinematic and literary, as it takes us on it's adventure, providing an ingenious twist towards the end which, while obvious, is very cleverly done and really makes you realise what a wonderfully versatile product Lego is, for both children and adults.
It's easy to see how this was such a huge success when it hit cinemas, and there will doubtlessly be a run of successful sequels. Good family fun which adults will enjoy just as much as the young ones, although the dastardly catchy theme song will likely be stuck in your head for hours afterwards. Everything is awesome.
7/10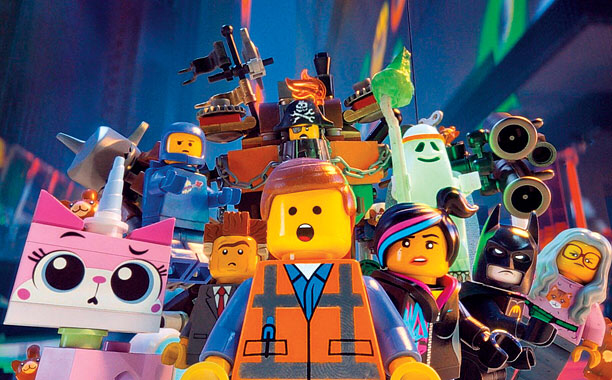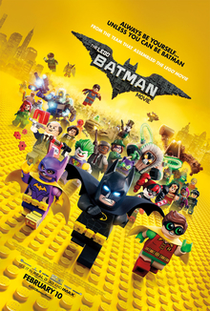 THE LEGO BATMAN MOVIE (PG)
D: Chris McKay
Warner Bros/DC/Ratpac-Dune (Dan Lin, Phil Lord, Christopher Miller & Roy Lee)
US/Australia/Denmark 2017
104 mins
Animated
W: Seth Grahame-Smith, Chris McKenna, Erik Sommers, Jared Stern & John Whittington [based on characters from DC comics]
Mus: Lorne Balfe
voices of: Will Arnett (Batman / Bruce Wayne), Zach Galifianakis (The Joker), Michael Cera (Dick Grayson / Robin), Rosario Dawson (Barbara Gordon / Batgirl), Ralph Fiennes (Alfred Pennyworth), Channing Tatum (Superman)
The huge success of the first Lego Movie and the massive popularity of the brand itself made it absolutely inevitable that various spin-offs were going to happen, the first of which focuses on one of the characters who helped make the first film so much fun. 
Bringing all of the characters from Batman's DC adventures into Lego form, the plot involves the Joker manipulating his way into the Phantom Zone, which holds all the worst villains from film and literature folklore, so he can escape and wreak havoc on Gotham City, all so he can prove that he is Batman's biggest nemesis.
Though the film is basically one big product placement for Lego merchandise, it still manages to be huge fun, drawing inspiration from all the Batman adventures over the decades. It's not just for kids.
7/10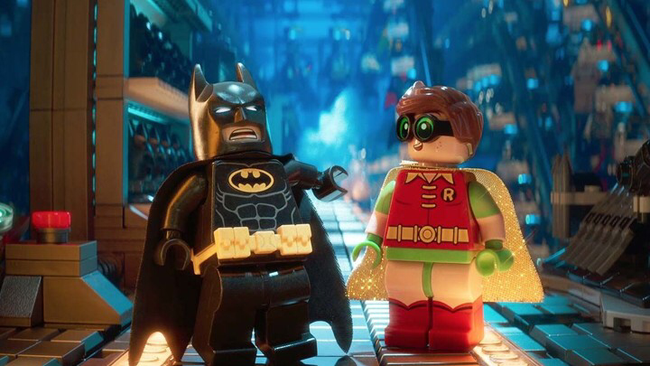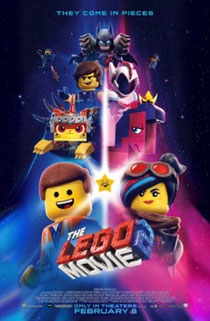 THE LEGO MOVIE 2: THE SECOND PART (U)
D: Mike Mitchell
Warner Bros/Rideback/Vertigo (Dan Lin, Phil Lord, Christopher Miller, Roy Lee & Jinko Gotoh)
US/Australia/Denmark 2019
107 mins
Animated
W: Phil Lord & Christopher Miller
Mus: Mark Mothersbaugh
voices of: Chris Pratt (Emmett Brickowski / Rex Dangervest), Elizabeth Banks (Lucy / Wyldstyle), Will Arnett (Batman), Tiffany Haddish (Queen Watevra Wa'nabi), Stephanie Beatriz (General Sweet Mayhem)
I'm sorry to say that the novelty is definitely over when it comes to Lego movies now. A shame, since I was highly entertained by both the original film from 2014 and the Lego Batman movie released in 2017.  Unfortunately, this sequel is just a cash-in and feels more like an excuse to push some product placement when the aforementioned films had far more focus on a good story.
The plot here sees the Lego world fall into  chaos & ruin following an alien takeover by Duplo (Lego for younger kids) and some of the characters, including Batman and Wyldstyle are kidnapped by a shapeshifting leader.  Emmett vows to rescue his friends, and is helped by Rex Dangervest, a rogue adventurer who comes with his own pet raptors.
Though the last half hour does hold some interest, the rest of the film before it is loud, brash and obnoxiously in-your-face. 
Personally, I'd rather watch some kids actually playing with some Lego... sure it'll probably be just as noisy, but it will still provoke a smile every now and then until you eventually tire of it and go do something else. 
5/10