The Lavender Hill Mob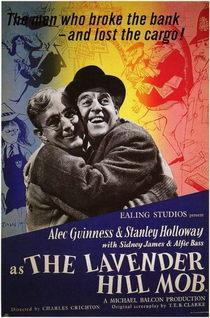 THE LAVENDER HILL MOB (U)
D: Charles Crichton
W: T.E.B. Clarke 
Alec Guinness (Henry Holland), Stanley Holloway (Pendlebury), Sidney James (Lackery), Alfie Bass (Shorty), Marjorie Fielding (Mrs. Chalk), John Gregson (Farrow), Edie Martin (Miss Evesham)
Arguably the finest of all the Ealing comedies. A meek bank clerk sets up a ragtag group of criminals to rob a security van, and hopes to get away with stealing the gold bullion by having it crafted into miniature models of the Eiffel Tower, which he can smuggle across borders without arousing suspicion.
The scheme, of course, is easier said than done, and following the "crime doesn't pay" morals of the Ealing Comedy way sees the plan go from bad to worse as a schoolgirl happens to buy one of the souvenirs from a bungling salesman, leading to a climactic caper of police chases.
Alec Guinness is absolutely splendid as the mastermind behind the crime and the screenwriting genius cannot be faulted.
10/10